Green Tea Trim Complex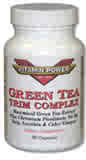 Lose Weight Now!
Dont Dream About It . . Do It!
Before reading on, remember to always consult with a licenced healthcare practitioner of your choice. Also, this is not a miracle remedy. Weight loss is a life-style change, and a normal exercise program (ex. walking) combined with a balanced nutrition plan, as well as properly managing stress will help you achieve the results desired.
Green Tea is valuable in aiding weight loss by increasing the metabolic rate, enabling more efficient caloric burn. A recent study published in the American Journal of Clinical Nutrition validates Green Tea's effectiveness, indicating the ingestion of catechins (a major component of green tea) leads to both a lowering of body fat and cholesterol levels.
Green Tea is also known to be useful as a glucose regulator, reducing the rise in blood sugar following a meal. It does this by slowing the action of a the digestive enzyme called amylase. This enzyme is necessary for the breakdown of starches (carbs), that can cause blood sugar levels to increase following a meal.
Unlike any other formula on the market, we've combined Green Tea with 11 additional beneficial fat-fighting ingredients: Chromium Picolinate, Kelp, Lecithin, Vitamin B6, Cider Vinegar, Parsley, Cornsilk, Uva Ursi Leaf, Psyllium Seed, Watercress and Oat Fiber. All-in-one Green Tea Trim is the daily dietary supplement specifically-formulated to help support natural weight-management, in easy-to-take capsules.
Recommended Dosage is One Capsule Before Each Meal.
Each 3 Capsules Daily Contain:

Green Tea Extract - 900 mg.
Vitamin B6 (as pyridoxine HCl) - 30 mg.
Calcium (as dicalcium phosphate and calcium carbonate - 100 mg.
Chromium (as chromium picolinate) - 210 mcg.
Herbal Blend: Parsley leaf, Cornsilk, Uva Ursi leaf - 300mg.
Pacific Kelp - 100 mg.
Lecithin (from soy) - 120 mg.
Cider Vinegar (5% acetic acid) - 240 mg.
Proprietary Fiber Base Blend: - 100 mg.
* Oat Fiber (as oat seed and oat bran), Psyllium Seed, Watercress Leaf

Formulated without corn, gluten, dairy products, salt, starch, sugar,wheat or yeast.
No artificial colorings, flavorings or preservatives added.
---
WEB SITE DISCLAIMER
Claims and statements on this website have not been evaluated by the United States Food and Drug Administration (FDA).
Information stated on this website is not to be considered as medical advice for dealing with any given problem, or to diagnose, treat, prevent, or cure any disease.
All information posted on this web site is provided for educational purposes only, and is not to be considered as a medical recommendation, or as professional advice. It is not to be construed as medical advice. Only a licensed medical doctor can legally offer medical advice in the United States. Readers are encouraged to confirm the information contained herein with other reliable sources and to consult your health care professional for individual guidance for specific health problems.
Mind-Body Health Christian Counseling is an independent branch of New Life Ministries. All contents and design copyright © 2007, Mind-Body Health Christian Counseling. All rights reserved.